There were 18 million cosmetic procedures performed in 2018, and that number continues to rise each year. While we are not all willing to go under the knife, there are ways to restore your youth. One big question we get asked all the time is what is the difference between Juvederm vs Restylane? Both are two trusted brands with their own benefits to helping you achieve cosmetic goals.
Dermal fillers can provide sculpting, rejuvenation, and restore your confidence in the person you are. With so many on the market, you may be wondering which filler is the best. At your consultation we always discuss your plan of treatment, and why one dermal filler may be chosen over another.
Juvederm Vs Restylane: Comparison Chart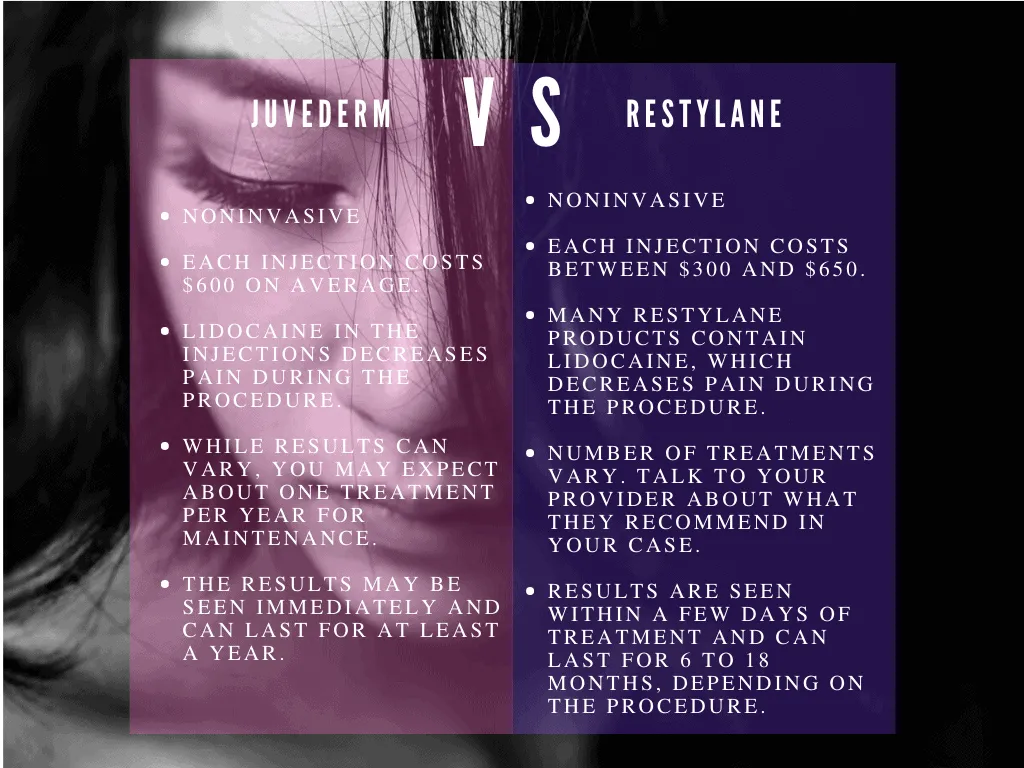 Hyaluronic Acid
Hyaluronic Acids, also known as HAs, are natural gel-like substances that help to bring nutrients and hydration to the skin. As the skin ages, it naturally slows the production of these acids, collagen, and elastin that can cause your skin to lose its fullness, volume, shape, and moisture.
Fillers that offer injectable Hyaluronic Acid restore the skin to its former glory.
They can not only restore but can subtly restructure the face.
They add volume to the skin and promote the reproduction of collagen and elastin naturally.
How long the gel injection lasts will depend on a number of things such as the type of filler used, your medical history, and the injection site. The hyaluronic acid is slowly absorbed by the body and replaced by collagen and elastin. This will hold the skin in place while providing a more youthful appearance.

Juvederm
Juvederm offers women a line of products that are each tailored to a specific use on the face. Each product contains a specialized set of ingredients that target areas of the face for best results. The original formula was used as a versatile injection, but now the line includes a more direct approach.
Your cosmetic provider can guide you in which injection can help you to meet your goals most effectively. It is FDA approved for adults over the age of 21. Juvederm is safe and should only be avoided if you are allergic to the ingredients, are pregnant, or breastfeeding.
Juvederm Ultra
Juvederm Ultra is a lighter formula. Its primary function is to assist in volume restoration and treatment of fine lines in the face. It can be injected into the face, lips, and cheeks to fight off the initial signs of aging.
Injections can be effective for up to a year, on average 6-9 months.
Effective in the initial treatment and emergence of fine lines and wrinkles.
It allows for facial sculpting through their proven methods.
Juvederm Ultra Plus
Juvederm Ultra Plus is a thicker and stronger formula. It contains not only Hyaluronic Acid, but also lidocaine allowing for a dual approach. The Hyaluronic Acid allows for the addition of fullness and plumping of the skin. The lidocaine is a local anesthetic that helps to make the injection more comfortable.
This injection can last for up to a year and can be retouched if needed.
Effective in the treatment of wrinkles around the nose, eyes, and mouth.
This product refills where volume was lost so it can be naturally restored.
Juvederm Vollure
Juvederm Vollure helps target the "parentheses lines" around the nose and mouth. This formula has been designed for moderate to severe wrinkles and fine lines. The filler helps to supplement where natural volume was lost and stimulates the body to heal and recreate natural collagen and elastin.
Injections can last from 12-18 months.
Effective in treatment around the nose and mouth- particularly smile lines.
Vollure helps to temporarily correct the lines.
Juvederm Voluma
Aging can be difficult on our cheeks. They begin to lose their volume, the firmness and start to lose the battle against gravity. Loss of elastin causes the skin to sag and wrinkle. Juvederm Voluma is specifically designed to target the cheeks.
Injections can be effective for up to 2 years.
Designed specifically for cheeks and their unique struggles.
Voluma offers a longer duration to help keep your cheeks perky.
Juvederm Volbella
Juvederm Volbella is designed particularly for "lipstick lines" around the mouth. Lipstick lines are lines that begin at your mouth and go up to your nose. They can appear thicker or darker and can mar your appearance.
Volbella injections can be effective for up to a year.
They are specific to treating lines around your mouth.
Tailored to the mouth, these injections are specific to treating the area above your lip.
Juvederm Side Effects
The injections are well tolerated by most women. The side effects most commonly reported are:
Redness
Swelling at the injection site
Tenderness
The side effects are typically temporary and resolve within 2 weeks. They can also include firmness, lumps/bumps, itching, and bruising. These are less commonly reported as the injections are typically well-tolerated.

Restylane
Restylane is another type of filler that can be used. It also incorporates the Hyaluronic Acid to help restore the elasticity of the skin that is lost naturally during aging. It improves the appearance of fine lines, wrinkles, and imperfections in the face. It works in multiple ways to help restore a more youthful look.
The injection is placed to improve the structure and shape the face.
The gel contains Hyaluronic Acid, which stimulates collagen and elastin. The collagen replaces the gel, helping to rebuild the face and provide a more youthful appearance.
Restylane Lyft
This formula is designed to not only help with the face but also to smooth out hands. The formula can smooth away lines that make your hands look aged. This product works well for sun damage and is a great solution for men and women.
Within 2 months, over 90% of women saw an improvement in their faces.
After 12 months, 73% were still seeing the results of their injections.
Restylane Side Effects
The most common side effects that are reported are minor and the injections are well tolerated by many. Effects include:
Swelling at the site
Redness
Tenderness after the injection
Bruising
Less common side effects include a formation of lumps, headache, and a temporary decreased ability in the hands. The effects reported are often diminished within a few days to a week.
Juvederm Vs Restylane
Restylane and Juvederm both offer unique lines to help men and women restore a youthful appearance. They can be used in the hands and face to reshape, refill the structure with natural collagen, and stimulate elastin production.
This offers temporary relief from aging and can last up to two years depending on the injection and the site. Both of these fillers are Hyaluronic Acids and it will highly depend on where you are getting your injection as to what filler your cosmetic provider will recommend. Both fillers are offered at for $675. Schedule your consultation today and go home feeling rejuvenated. Visit our blog where you can find out more about Botox for men and how to get fuller lips.
Did you have good results with Juvederm or Restylane? Tell us about the results. Would you do it again? Comment down below!