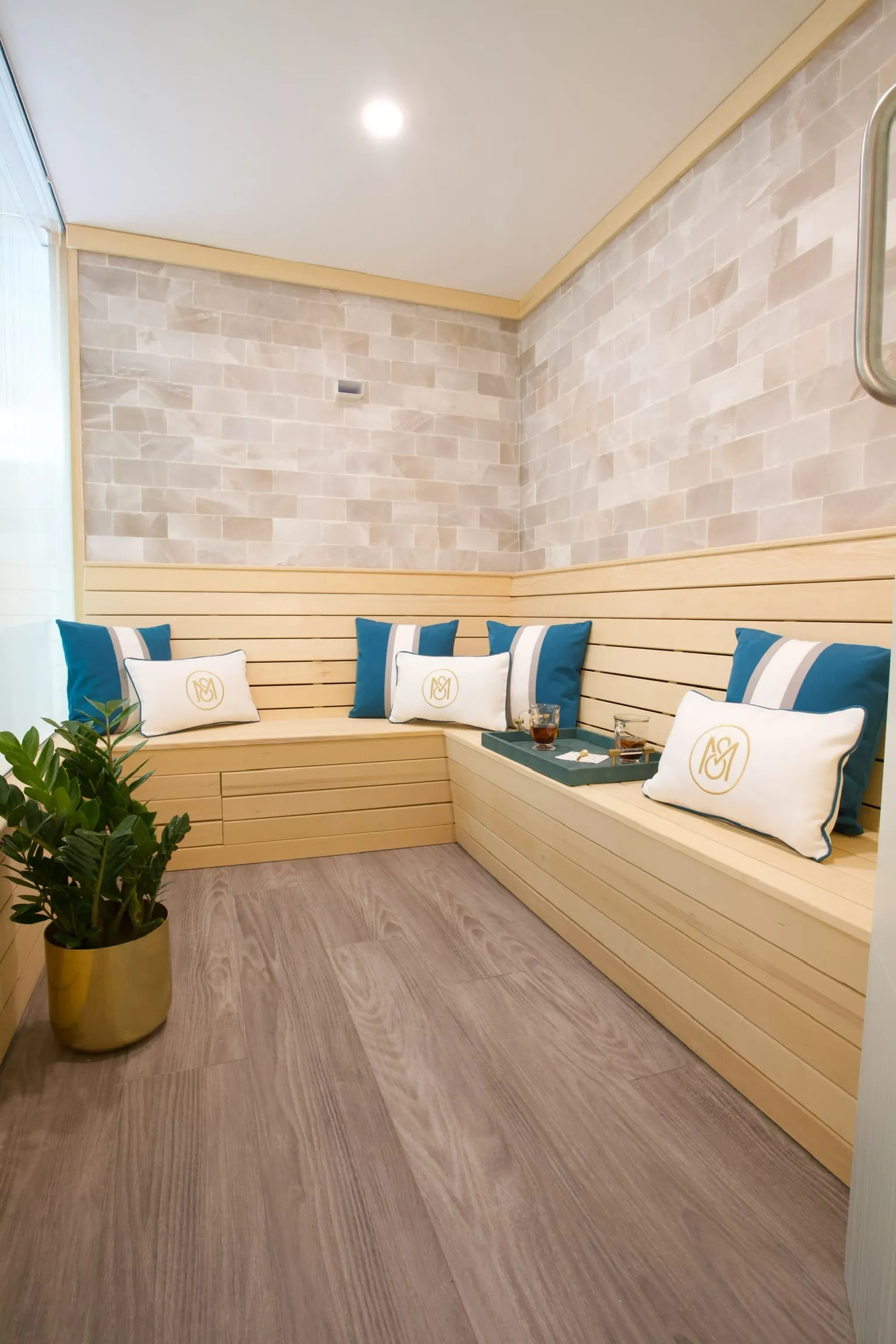 What is Halotherapy? (Dry Salt Therapy)
Dry salt therapy (halotherapy) is a natural, drug-free, non-invasive treatment that utilizes a halogenerator to grind, crush, and disperse micron-sized particles into the salt room to help aid respiratory concerns and skin conditions. If there is no halogenerator, there is no halotherapy.
What are the Health Benefits of Dry Salt Therapy?
According to the Salt Therapy Association (STA), many people who undergo halotherapy as a complementary treatment on a regular basis may find relief from a variety of respiratory conditions such as:
Asthma
Chronic Bronchitis
Coughs, Colds & Flu
Emphysema
Sinus Infections/Sinusitis
COPD
Cystic Fibrosis
Allergies/Hay Fever
Ear Infections
Snoring & Sleeping
Dry Salt Therapy may also be beneficial to your skin in treating:
In addition, Dry Salt Therapy has been shown to reduce:
We ask that you use the Salt Chamber for a maximum of 30 minutes.
What Do I Wear for My Salt Therapy Session?
Loose, comfortable, light-colored clothing or a SeaMist robe that you can relax in works best. If you are using dry salt therapy for a skin condition, you'll want to have that area exposed.
Loose, comfortable, light-colored clothing or a SeaMist robe that you can relax in works best. If you are using dry salt therapy for a skin condition, you'll want to have that area exposed.
Sweat Therapy with Swedish Sauna / Infrared Sauna
What are the Health Benefits of Sweat Therapy?
Perspiration (sweating) provides detox, cleansing, and rejuvenation of the skin. Skin conditions such as eczema, psoriasis and acne can improve
Improves skin tone and elasticity
Improves circulation
Helps promote weight loss by burning calories
Supports balancing stress hormones and helps reduce stress levels
Aids in improving blood glucose levels
Supports heart and brain health
Induces a deeper sleep
Contraindications and Precautions:
Pregnancy
Alcohol use
Taking warfarin or other blood thinning medications
Hemophilia / prone to bleeding
Chronic diseases with inability to sweat, history of multiple sclerosis, central nervous system tumors, diabetes with neuropathy should avoid sauna use
Fever
Pacemaker or defibrillator
Children and elderly
Recent wax treatment
Taking diuretics or beta blockers may impair the body's natural heat loss mechanisms
Cardiovascular conditions
Those with history of hypotension / hypertension, congestive heart failure, or taking medications for cardiovascular health should take extreme caution in prolonged heat
It is always advised to speak with your healthcare provider prior to initiating Sweat Therapy
ARE YOU A CANDIDATE?
The best way to determine your candidacy for treatments is to schedule a consult.
A sauna is a small, specially designed room or building where individuals can experience either dry or wet heat sessions, leading to sweat. Traditional Finnish or Swedish saunas use a stove and heated stones to generate high heat, often exceeding 150°F (65°C), with humidity increased by sprinkling water on the stones. On the other hand, infrared saunas use infrared heaters that emit radiant heat directly absorbed by the body, operating at lower temperatures (120-140°F or 49-60°C). While saunas are culturally significant in places like Finland for both health and social purposes, they are globally popular for potential health benefits such as relaxation, detoxification, and improved cardiovascular health.
Infrared saunas are a type of sauna that uses infrared heaters to emit infrared light, which is absorbed by the skin's surface. In comparison to traditional saunas, they operate at a lower temperature, typically between 120°F and 140°F, making them potentially more comfortable for individuals who find traditional saunas too hot. Infrared saunas create heat in the body directly, which can result in deep sweating and an increased heart rate.
Benefits of Infrared Saunas
Detoxification:
Infrared saunas can stimulate your sweat glands, offering an efficient way to eliminate toxins from your body, such as heavy metals.
Relief from Sore Muscles and Joint Pain:
The heat from infrared saunas can penetrate into the muscles and joints, providing relief from minor aches to chronic pain.
Improved Circulation:
The heating effect can stimulate blood flow, improve cardiovascular health, and help with recovery from injuries.
Skin Health:
Regular use of an infrared sauna may improve the health of the skin by reducing wrinkles and improving skin tone and elasticity.
Relaxation and Stress Reduction:
Infrared saunas' gentle warmth promotes relaxation, reduces stress, and improves sleep.
Swedish (Traditional) Sauna
Swedish saunas, also known as Finnish or traditional saunas, operate with higher temperatures, typically between 150°F and 195°F, and a lower humidity level. These saunas are heated by a stove, either wood-burning or electric, with rocks that emit heat. Water can be poured on the rocks to increase humidity, intensifying the sensation of heat.
Benefits of Swedish Saunas
Detoxification:
Similar to infrared saunas, the intense sweating in a traditional sauna can help to flush out toxins from the body.
Cardiovascular Benefits:
The heat and steam can stimulate the heart rate, increasing circulation and potentially helping to lower blood pressure over time.
Muscle Relaxation:
High temperatures help to relax muscles, relieving tension and helping to alleviate minor aches and pains.
Improved Immune System:
Regular sauna use can stimulate the production of white blood cells, strengthening the body's immune response.
Stress Reduction:
Traditional saunas also provide a quiet, relaxing environment for reducing stress and promoting relaxation.
ARE YOU A CANDIDATE?
The best way to determine your candidacy for treatments is to schedule a consult.