Can you imagine doing 20,000 squats or sit-ups in one session? This is not humanly possible, but with the help of new technology, you can build muscle and lose fat in as little as 30 minutes per treatment session. Body contouring with Emsculpt is an FDA-cleared treatment option that helps individuals eliminate stubborn areas of fat from the body and define muscle mass. This revolutionary technology has been helping many patients reach their body-contouring goals.
This guide will step you through everything you need to know about contouring your body with Emsculpt.
What Is Body Contouring With Emsculpt?
Emsculpt is an innovative
body-contouring device
that is FDA-cleared. The device uses targeted energy to burn fat and build muscle on fat problem areas on the body. This is done by contracting muscles to help increase tone and speed up the process of fat metabolism. This non-surgical method is known for being pain-free and can be used to tone and define muscle in certain areas like the abdomen, buttocks, arms, and legs. Most individuals need a series of treatments to achieve their desired results. If you are looking for a treatment to help with your double chin, check out
Kybella
.
Is Emsculpt Safe?
Emsculpt is an FDA-cleared device that helps individuals define muscle and burn fat. Emsculpt works by using targeted magnetic energy to contract muscles. Studies have shown that Emsculpt is a safe procedure that is also pain-free. One session of Emsculpt can be the equivalent of doing 20,000 sit-ups or squat reps. This means that the device can work more effectively than a physical training session to help improve your muscle tone.
Results of Clinical Studies
19% reduction of fat
4 cm (1.5 inches) loss in waistline circumference
16% increase in muscle mass
11% reduction in abdominal muscle separation (called diastasis recti)
5 x increase in fat metabolism (apoptotic index increased from 19% to 92% after treatment)
80% patients with visible lifting effect of buttocks
96% patient satisfaction
Who Is the Ideal Candidate?
Those looking for an innovative, non-surgical body-contouring option may consider Emsculpt. This treatment is designed to burn fat and build muscle. This helps define certain areas of the body. Those who want to sculpt their body (including sculpted abs, thighs, and glutes) can potentially benefit from the procedure. Patients with stubborn pockets of fat may be recommended for this treatment. Your provider will perform an evaluation and examine your medical history to determine if it is right for you. Discuss your goals and expectations with your provider to find a treatment option that is right for you and your needs.
Who Is Not an Ideal Candidate?
Emsculpt is designed to
help tone and build muscle
on the body. It also can burn away stubborn pockets of fat that have not been eliminated through regular diet and exercise. However, it is not designed as a weight-loss or weight treatment procedure. Those treated with Emsculpt may lose some weight, but it will not be significant. For this reason, people considering this procedure are typically recommended to be around their target weight to experience the best results. Speaking with your cosmetic physician or provider can help determine whether or not you are an ideal candidate.
How Much Does Emsculpt Cost?
The price of Emsculpt can vary, depending on a variety of different factors. Where on your body you have the procedure done, and the number of locations, can impact how much pay for the procedure. Having it done on multiple areas raises the price. Geographical location can also affect the cost of the procedure. While it is typically priced per session, most individuals require more than one session to achieve desired results. Patients can expect to pay around $2,500 and up for all of their sessions.
Are There Side Effects?
Emsculpt is an effective procedure that does not produce harmful side effects. It is an FDA-cleared treatment procedure that is non-surgical. This means that individuals who undergo the treatment are able to return back to normal everyday activities following the procedure. If you have any concerns or questions regarding the procedure, it is best to discuss them with your cosmetic surgeon before the procedure. Your cosmetic surgeon can walk you through the treatment to ensure that you are comfortable with the treatment process.
What Are the Benefits of Emsculpt?
Emsculpt provides a means of eliminating stubborn pockets of fat and helping to build up muscle. Some people may have reached their weight loss goals, but pockets of fat may still remain in problem areas. In order to get rid of this fat, those specific areas need to be targeted. Continued regular diet and exercise on its own may not get rid of this fat. It
offers patients a solution
to this problem. Emsculpt uses targeted magnetic energy to eliminate fat cells and build up muscle. As a result, these areas of the body (for example, the abs, thighs, and glutes) become more toned and defined.
Benefits Include:
Builds muscle
Burns fat
Non-invasive buttock lifting procedure
No surgery
No anaesthesia
Suitable for everyone
only a 30 minute walk in walk out procedure
Only 4 session needed 2-3 days apart
Feels like an intensive workout
No downtime
Instant results but gets better after two to four weeks
16% average increase in muscle mass
19% on average fat reduction
How Many Treatments Will I Need of Emsculpt?
Each patient has different goals when it comes to body contouring. Your provider can provide you with an individualized evaluation to determine what you need to achieve the desired results. Emsculpt is designed to be a treatment option done over the course of several weeks with multiple treatment sessions. The majority of patients require more than one treatment session to achieve their desired results. Some patients require only a couple of treatment sessions. On average, 4-8 treatment sessions are needed for desired results in each area. How many treatment sessions are needed also depends on how many different areas of the body are treated.
Body Contouring with Emsculpt Before and After Photos
What Are Some Alternative Treatments to Emsculpt?
There are several alternatives to Emsculpt that may be right for you. Your cosmetic surgeon or provider can discuss your goals and expectations and determine a treatment that will provide you with the best results.
CoolSculpting
is one alternative that may be used with Emsculpt. CoolSculpting utilizes targeted cold temperatures to freeze away fat. Some patients feel a cooling sensation and experience redness immediately following the treatment. This is temporary and works to decrease the fat but not to build muscle. Another alternative to Emsculpt is Sculpsure. Instead of utilizing
cold temperatures to remove fat
, Sculpsure uses heat to destroy fat cells.
Will I Have Downtime After My Emsculpt Treatment?
Emsculpt is a non-surgical, FDA-cleared body-sculpting option that provides patients with a comfortable experience. Since Emsculpt is noninvasive, individuals are able to return to their normal daily activities immediately following the procedure. Patients do not experience any harmful side effects and the process is comfortable. Some patients report a tugging sensation but, after the procedure is completed, the feeling vanishes. Patients do not experience the warm, cold, or tingling sensations that may be present in other treatments. Those who have received Emsculpt treatment do not have to worry about limiting daily activities or scheduling off from work. Because of this minimal recovery time, Emsculpt is a preferred choice.
Are the Results Immediate?
Results from Emsculpt begin to develop as soon as the treatment process is completed. However, results may not be visible right away. This is due to the body breaking down the fat cells, as well as building muscle. Once a few weeks have passed, results will begin to be visible. This may be around the two- to six-week mark from the first treatment session. Some results may be visible within a few days. Some patients report that they are able to notice changes in their abdomen area a few days following treatment. The results may continue to develop over a six-month time frame. How many treatment sessions are needed varies depending on the individual and their desired results.
How Long Will the Results Last?
Emsculpt is designed to eradicate fat cells and build up muscle mass. The fat cells that have been metabolized due to the Emsculpt treatment are permanently destroyed. Muscle mass gained by the Emsculpt procedure may not be permanent. Additional periodic treatment sessions may be recommended in order to maintain the results achieved. Muscle mass can start to fade after the six-month mark. Maintaining a healthy diet and regularly exercising can minimize the effects of fading. Significant weight gain can cause the muscle mass gained to deteriorate more rapidly.
What Do I Need to Do to Prepare for Emsculpt?
Before the treatment process for Emsculpt, your provider will walk you through the treatment process. Generally, there is no physical preparation required for a treatment session. Your provider will discuss what the treatment is like. Emsculpt causes your muscles to contract, similar to how they would if you were going to a high-intensity strength-training session. If you wish, you may want to prepare your body similarly. You may want to not eat too much and empty your bladder before your session.
What Should I Do After My Treatment to Optimize Results?
Your provider will advise you on what steps to take following your Emsculpt treatment sessions. Results from treatment sessions may take several weeks to become visible. However, results begin developing as soon as the treatment process is completed. Emsculpt helps eliminate fat cells and build up muscle mass. Maintaining a healthy lifestyle, by eating healthy and exercising properly, can help maintain results. Excessive weight gain can cause a depletion of gained muscle mass.
Does Body Contouring With Emsculpt Tighten the Skin?
Emsculpt is a device that uses targeted energy to help build and tone muscle. The device does so by also helping quickly burn fat in that area. While the intended goal of Emsculpt is not to tighten the skin, skin tightening may happen after treatment. This is due to the skin becoming more defined and toned. If you are looking for a procedure specifically designed to tighten up areas of your skin, you may want to discuss other options with your provider. Tell your healthcare provider what your goals are for your body, and they will be able to recommend a treatment option best for you and your needs.

What Areas of the Body Does Emsculpt Treat?
Emsculpt can be used for several different areas of the body, to eliminate fat cells and help build muscle mass. This energy-targeting device allows your provider to define and contour certain areas of the body like the abs, buttocks, arms and legs. While Emsculpt is FDA-cleared for use on the abdomen and glute region, there are also other areas where it may prove beneficial, such as the upper arm area, calves, and thighs. Results of the abdomen region can sometimes be seen within a day following the procedure. However, most results develop over the course of a few weeks.
Do You Lose Weight with Emsculpt?
Emsculpt is not designed as a weight loss procedure or a weight loss treatment option. Those seeking a weight loss procedure will not be recommended Emsculpt, as it is designed to help target certain areas to burn fat and build muscle. Speak to your provider about the goals you have for your body and any expectations you have for a procedure. This will allow your provider to recommend a treatment option for you.
Are Results Permanent?
As with any cosmetic procedure, results may vary. This is because each body, as well as each lifestyle, is different. It is designed to permanently get rid of fat cells in stubborn areas of the body. It is also designed to help build up muscle mass in those areas. This helps define and tone muscle in certain areas. The results may become visibly noticeable over the course of several weeks. Muscle mass may lessen over time. Periodic treatment sessions (usually 1 session every 4-6 months) are generally recommended to maintain muscle mass, in addition to keeping up a healthy lifestyle. Emsculpt is not designed as a permanent solution for gaining muscle mass. However, it can aid the development of permanent muscle mass, as well as muscle definition. Rapid weight gain can cause muscle mass to deteriorate more rapidly. It is not designed to be a weight loss solution and is designed to
target stubborn areas of fat
.
Does Insurance Cover Emsculpt?
Depending on the level of results that an individual wants to achieve, multiple sessions may be required over the course of a few weeks. Medical insurance is designed to provide coverage when there is a medical need. Emsculpt is typically a cosmetic treatment option to help burn fat and build muscle. For this reason, it may not be covered by your insurance. For more information regarding your policy, you should contact your insurance provider to learn what is covered under your policy.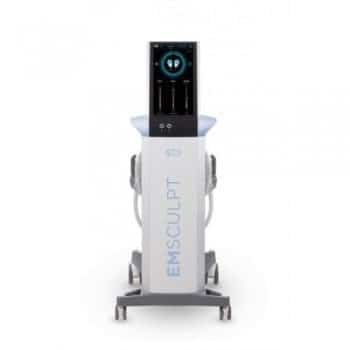 The Emsculpt Machine
The Emsculp machine is a non-invasive, FDA-approved device that is used to strengthen muscles and help break down fat. It uses High-Intensity Focused Electro-Magnetic (HIFEM) field technology, which is the same technology used in an MRI machine. The machine will induce powerful muscle contractions, which will then lead to increased muscle density, decrease volume, provide a better definition, and also improve muscle tone. It is one of the most effective treatments to tone the buttock and abdomen area. Many med spas have this machine and offer this body contouring treatment. If you are interested in learning more, click here to contact us today!
Body Contouring With Emsculpt in Rhode Island
Emsculpt features a revolutionary technology to help patients reach body-contouring goals through non-surgical and noninvasive means. Patients who are struggling to rid themselves of stubborn areas of fat may be recommended the procedure. Speaking with a professional licensed provider can help you decide whether the procedure is right for you. If you are looking for a medspa in Road Island that offers Emsculpt treatments, you should check out Seamist MedSpa. The professionals at
SeaMist MedSpa
take pride in creating individualized treatment options for their patients. Schedule a consultation today to find out which treatment options may be right for you to help you achieve your body-contouring goals. Check out our blog for help
skincare tips
and industry news.